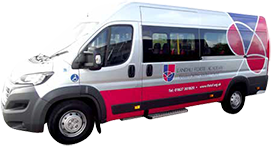 Academy Transport – minibuses – 2018/19 Scheme
Minibus routes for 2018/19 have been published and improvements have been made as follows:
In addition to pick-up points in the local area, we have now included the Elford/Harlaston/Edingale area.
We have reduced the cost of the bus to account for the fact that Sixth Form students may not use the bus every day.
As well as Sixth Form student, places are now open to QEMS students, if spaces are available.
In addition, if only one-way is required (i.e. mornings only), this can be accommodated at half the cost.
If you would like to apply for a place on the minibus, please click here for the application form (which also gives details of routes/cost), which should be completed and returned to Mrs Ball.
All enquiries to Mrs Ball, email zball@lfatsf.org.uk or telephone 01827 301820.